Published travel books to inspire your wanderlust.  I love the writing process from initial brainstorming to final sentence structure details, and the ability to share my stories in a way that encourages people is truly a blessing.  Previously, I wrote five educational books on making chain jewelry and used the royalty income to travel around the world, which motivated my inner storyteller.  First, I published 26 eBooks about cycling across New Zealand, and now I'm writing a new series about backpacking through Vietnam.  Scroll down see my latest book title and download a free preview.  
I entered a massive cavern, awash with majestic sunlight that filtered down through natural fissures in the ceiling. The faint whiff of incense smoke rose as birds swirled around the chamber; their echoing chirps mixed with the sound of monk's chanting. Carved into the back wall was a colossal statue of Buddha, seated in a peaceful pose of deep meditation; inspiring me to take a moment and enjoy this sacred sanctuary. My mind began to relax as I allowed the sound of the Aum-chanting monks to wash over me like warm surf. I closed my eyes, focused on the sound, and slowly quieted the dialogue within my mind – until – I unknowingly slipped into meditation.
Curious? Download a FREE 15-page eBook Preview!
In this seventh episode of the Vietnam Travel Magic series, I will be taking an unexpected pilgrimage to a colorful lantern festival in Hoi An. This narrative chronicles my spiritual journey within at a Buddhist monastery; drifting through sublime caverns and slipping into a blissful meditation. This experience allowed me to push beyond my limits to discover my true potential and gain a deeper self-awareness. Next, I retired to the beach for a rainy day of endless backgammon games and then celebrated the full moon by floating candle-lit lanterns down the river.
Intrigued?  Review the full series of Vietnam eBooks!
New Zealand Travel Magic Series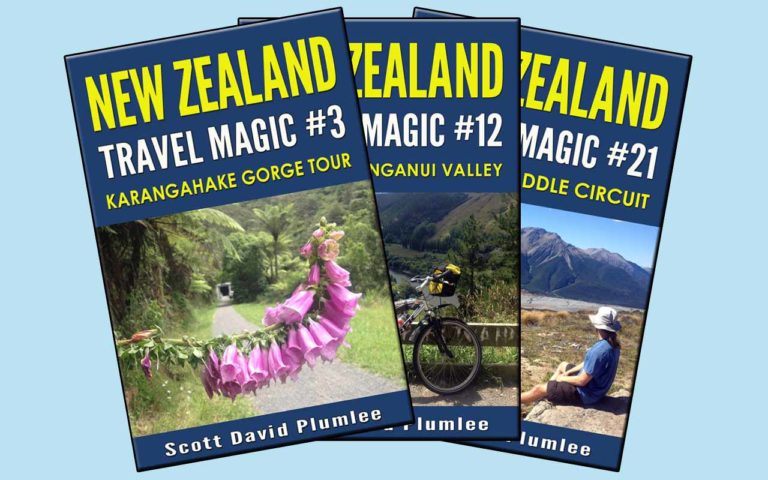 These books chronicle my cycling and hiking journey across New Zealand; designed to inspire you to discover your own Travel Magic. They combine on-the-road photography with a running narrative to give you an insight into my passion for cycle touring: pedaling beyond limits, navigating by instinct, philosophical insights, mountain summit views, life-long friendships, and being comfortably lost.
Pro Tip: If you've got more muscle than money, I highly recommend visiting New Zealand by bicycle with camping gear.  NZ is amazing for cycle touring, as it has quality roads with light traffic, abundance of quality campgrounds, and remarkable scenery with every kilometer.  From modern cities and dynamic national parks to Maori folklore and Hobbit mythology – NZ is a majestic land waiting to be explored.
Chain and Bead Jewelry Series
Before my globetrotting agenda, I published a series of educational books with Random House on how-to make beaded chain jewelry that was based on sacred geometry and embellished with gemstone beads.  I promoted this series of five books and three DVDs by leading hundreds of jewelry making workshops worldwide. 
For over a decade I was very passionate about creating and teaching this craft, but in 2012 the US economy declined and my creativity for new designs diminished; signaling a need for change.  Although I am no longer making jewelry or teaching classes – the legacy lives on, as these books continues to inspire people to discover the quiet meditative practice of assembling individual jump rings. 
For more information, visit www.davidchain.com
I developed this site to inspire you to go explore this big blue marble and discover the transformative magic of personal empowerment. Guiding your wanderlust, there are regional maps of the world that illustrate some Magical Places among the multitude of tourist traps. 
To help you succeed, I created Travel Advice pages divided into:
1) Before You Go: Basics, Documents, and Medical;
2) What To Take: Luggage, Clothing, and Technology;
3) On The Road: Immersion, Philosophy, and Books.
Lighting the path, the Travel Magic eBook series shares my personal experiences and takes you away to exciting locations; joining me to go cycling across New Zealand and backpacking throughout Vietnam.
I sell these adventure stories as digital eBooks exclusively on Amazon.  Click on any book cover image to visit my Amazon Author Page.